The Best Purple Prom Dresses 2011
Actress Mila Kunis started the craze for purple prom dresses at the 2011 Academy Awards. (Getty Images)more pics

»
Mila Kunis kicks off the craze for purple prom dresses 2011

Purple prom dresses are guaranteed to be 2011's hottest prom trend thanks to Mila Kunis, Natalie Portman, Cate Blanchett and Scarlett Johansson who all wore purple dresses to the 2011 Academy Awards. If you're on the hunt for purple prom dresses 2011, we highly recommend looking to these starlets for inspiration... After all, who looks better in purple dresses than Hollywood's leading ladies?
With so many gowns to choose from, it's no wonder you're having trouble finding the best purple prom dresses for 2011. The market is saturated! To help, we've narrowed it down to a few of our favorites. Here are our picks for the best purple prom dresses 2011:
On sale now at Asos.com, this one-shoulder chiffon maxi dress in aubergine is a cheap-chic solution to your search for purple prom dresses 2011. Plus, it's only $42! Shop
here
.
If you have a bit more money to spend, BCBG's pleated silk wisteria gown is romantic enough for prom without going over the top. At $348, this is among the more elegant purple prom dresses we've seen for 2011. Shop
here
.
If mini is your thing, max out at BCBG with this chic one-shoulder frock in lavender mist for $298. Just lose the black belt and swap the shoes for something sparkly and, voila!, you have the perfect short purple prom dress for 2011! Shop
here
.
For the Florence Welches of the world, we like this chiffon kaftan-style purple dress, $32 at
Asos
. With a vintage hippie vibe, rest assured that this low-key number will be chic forever and will stand apart from the rest of the purple prom dresses in 2011.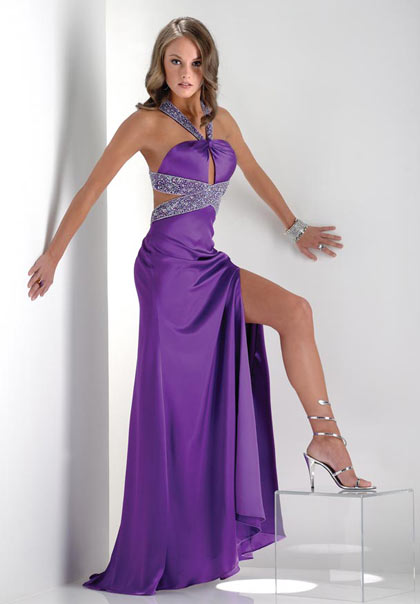 If you must take things over the top, this is the mother of all purple prom dresses in 2011. The purple Flirt prom dress has halter straps, beading and a daring cutout bodice. Buy it for $299
here
.
Related Articles: