Shop For a Cause: Keep a Child Alive With Bloom + Grace Jewelry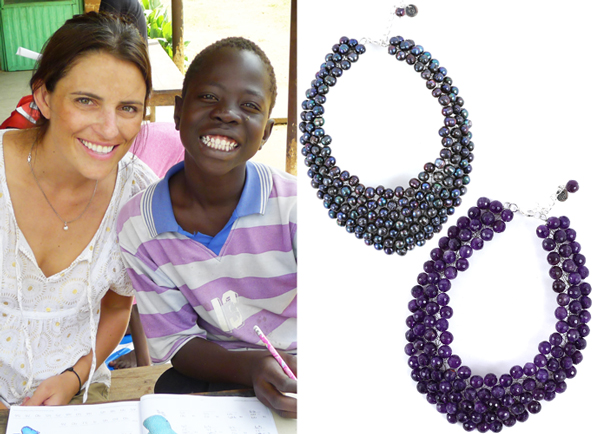 (Courtesy: Bloom + Grace)
Talk about a wake-up call: Every 20 seconds a child dies from a disease that vaccinations can already prevent, while nearly 1.5 million deaths annually are avoidable. When Dani Lachowicz returned to New York City after spending five years volunteering and conducting research in sub-Saharan Africa, she decided to make jewelry her weapon of choice against these staggering statistics. Enter
Bloom + Grace
, an e-commerce site that partners with the
United Nation's Shot@Life
campaign to provide children in developing countries with immunizations.
"
Jewelry
as a profession was never on my radar," says Lachowicz, who received a master's degree in human rights from New York University. Her shift in perspective occurred during a post with the International Rescue Committee in rural South Sudan. "There were men melting down
bullet
casings from the war to create amazing bangles," she recalls. "Something beautiful was drawn out of such a violent moment in history and it resonated with me."
If you're unfamiliar with the one-of-a-kind, handmade assortment of crystal and metallic-embellished cuffs or beaded bib necklaces featured on the site, this is the moment to spice up your jewelry box. To spread awareness for World Immunization Week, which begins today and lasts through April 30, Bloom + Grace is matching every dollar spent and there isn't a single piece of jewelry priced above $200.
What's more, each purchase packs a quantifiable punch. Before clicking the red purchase button, you'll know exactly how many children you've helped. In the year since Bloom + Grace launched, they've already distributed 2,099 vaccinations and Lachowicz is continuing to dream big. "All it takes is one shot to protect someone for life—we want to make that happen a million times more over the next 5 to 10 years," she said. "Once we get there, I'll give you another goal."
Related Articles: